My Analysis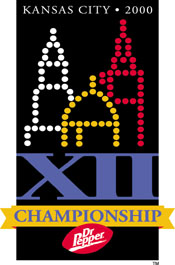 Post Big-12 Championship: Good defensive effort, but it's hard to win when the offense doesn't score in the second half till after the 2 minute warning.....
Post Huskers: The biggest win in the history of Kansas State University Football-- it doesn't get any better than this! Jonathan Beasley can finally take down his locker sign... check out my photo gallery and game statistics page! Can you say: "Big 12 Championship on December 2nd?!"
Post A&M: When you don't score in the first half, you can't make any excuses for the loss... the highlights of the day included Nebraska's defeat to OU (any day the Huskers are beat is a GREAT day) and the fine marching by the Aggie band. If the Cats can manage to get up for the Huskers on Nov 11th and win they can still go to a Big 12 championship.... if A&M could manage a miracle and beat Oklahoma as well as Texas, there could be a rematch in Arrowhead Stadium..... but I won't hold my breath. My QTVR 360 degree movie from the center of Kyle Field taken after the game is available.
Post Oklahoma: Even with the loss to the Big12 SOUTH Sooners Oct 14th, K-State still can earn a top BCS bowl invitation by defeating the Cornhuskers on Nov 11th as long as Oklahoma beats them on Oct 28th. That day, of course, the Wildcats will be settling an old score in College Station, Texas.....
Updated KSU Sports Info
Football Rivals in 2000
| | | | |
| --- | --- | --- | --- |
| Team | Date to Play in 2000 | Result | Score |
| Colorado (N) | 9/30/00 | Win | 44 - 21 |
| Kansas (N) | 10/7/00 | Win | 52 - 13 |
| Oklahoma (S) | 10/14/00 | Loss | 41 - 31 |
| Texas Tech (S) | 10/21/00 | Win | 28 - 23 |
| Texas A&M (S) | 10/28/00 | Loss | 26 - 10 |
| Iowa State (N) | 11/4/00 | Win | 56 - 10 |
| Nebraska (N) | 11/11/00 | Win | 29 - 28 |
| Missouri (N) | 11/18/00 | Win | 28 - 24 |
| Oklahoma (S) | 12/2/2000 | Loss | 27 - 24 |
| Bowl Game TBA | TBA | - | - |
Other Big 12 Links: