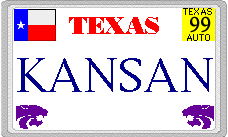 Welcome to the homepage of the Texas KANSAN! I am an elementary educator in Lubbock, Texas, and (among other things) am interested in learning better ways to integrate technology use in the classroom. I have published a variety of original papers relating to:

My perspective on computer operating systems is now online (under construction, of course). If you are a Macintosh user and either want to receive or give troubleshooting help to another Mac user, you need to check out Housecall.

Please email me any questions or comments using my contact form. My PGP public key is available, as well as instructions for using PGP email encryption.

Are you concerned about Microsoft Computer's ever-increasing influence on global computing? "From Microsoft Word to Microsoft World: How Microsoft is Building a Global Monopoly" is a thought provoking read. Hey, it turns out the Department of Justice is concerned too....!

Looking to stay current on educational technology issues? Sign up for my bi-weekly (approx twice a month) email newsletter. (It is free.) Some past editions are archived online. You can also check out these links for educational technology news sources.

Looking for a K-12 Technology workshop presenter? Check out the classes I am presently teaching. Read the evaluations of former participants in my TIE grant workshops and Research/Offline workshops.

Resources for educators can be found on my site "Tools for the TEKS: Integrating Technology in the Classroom." I maintain this website as an online extension for the column I write for the TechEdge, the journal of the Texas Computer Education Association. Past email postings from my free listserv are available, as well as shared ideas from other questions in the Technology Idea Exchange section.

Just for fun: